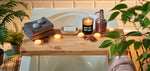 Candles help you set the mood and enhance your favorite rooms and spaces to trigger creativity and passion, find peaceful solitude, or create places where your guests feel at home. It can be fun to experiment and explore all the ways custom candles can let your personality show and create balance and harmony throughout your home. Here are seven ways to decorate your interior with candles.
Where You Entertain
The most common way to use custom candles when it comes to decorating your interior is by displaying them throughout the rooms of your home where you entertain guests. Imaginative ways include using candles as centerpieces, on sideboards or buffet tables, in fire places and favorite nooks, and to fill window ledges.
Setting a tableau on any interior surface, especially a decorative trays that adds a special touch of its own or upon mirrored surfaces that reflect and enhance candlelight, make a dramatic effect. You should always take precautions to protect the surfaces of furniture, and if near flammable materials such as tapestry, curtains or draperies, consider deploying flameless candles to create the same atmosphere.
Dinner Table Centerpiece
Customer candle centerpieces provide a warm and welcoming ambiance around the dinner table, and are functional as well as visually appealing elements of a beautiful night enjoyed dining with friends and family. Centerpiece candles are easy to arrange, can last for many meals, and can be coordinated with floral displays and provide pleasing reflections off crystal glassware and other table placements.
Sideboard or Buffet Table Display
A long, narrow sideboard or buffet table offers a wonderful opportunity to showcase candle displays that include customized candles, candleholders or pedestals, that compliment surrounding colors and natural components of your table and space, and also provide height and dimension to add to the visual effect. Sideboard and buffet tables are easy to rearrange to celebrate the seasons, holidays, special occasions, and family celebrations.
Coffee Table Accents
Give your living room or den additional flairs of color with candles in decorative containers that enhance the aesthetics and character of your space. Grouping candles on trays or votive candles on coffee tables to match pillows, throw-rugs, cushions and sofa fabrics let you inject personality without clutter, and set a mood that your guests will enjoy.
Accent a Fireplace or Fill a Window Ledge
If you love the tranquility of a fire glowing in a fireplace, but don't want the mess of a wood fire to clean up after, then deploying a grouping of candles of differing heights and shapes in your fireplace is a stylish and easy solution for you. If you want to fill favorite nooks and window ledges, dark nights can feel brighter with the light of flameless candles reflecting off window panes without fear of damage to curtains and window panes.
Where You Relax
Candles make any space more comforting and spiritual, especially when they're integrated into experiences that include soothing sounds, calming light, and cleansing water to wash away the toughest of days. The scent of a burning candle can infuse your daily rituals and practices with energy or serenity, depending on the aroma associated with your candle's fragrance.
Experiment to discover the candle that uses only natural fragrances and oils for scents that create an ideal and healthy environment. The shape and the color of your candle can also evoke emotions and increase focus and balance.
Create a Zen Corner
You can turn any area in your home where you feel calmest and most in touch your feelings into a more intimate space with candles. Valued for their ability for creating serene atmospheres that foster greater clarity and peaceful thoughts, candles can be used to enhance your meditation practice.
Create a Spa-like Bathroom
The effect a few simple tea lights or floating candles can make in your bathroom, turning your bathtub into a welcoming haven from a long, stressful day, is remarkable. Let the calming scents from your candles work wonders in a cozy bubble bath, whether floating on the bathwater surface or spread around the bath.
Enhance Bedroom Ambience
Candles create the perfect mood in the bedroom, whether it's stirring passions and romance or offering refuge with the perfect book at the end of the day. Scented candles can create a tranquil atmosphere that contributes to a deeper sleep and a more refreshed morning. Always be mindful not to fall asleep before extinguishing all flames.
You can use candles to create the perfect space in your home and let your creativity and  personality shine brightly. Candles.com helps you find the custom candle for every room in your house. Get your own custom candle to set the ambience in your home today.